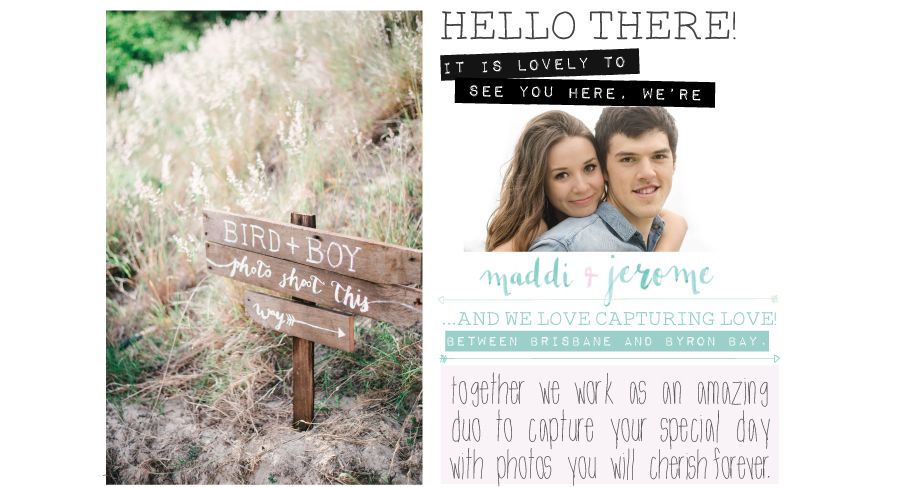 Hmmm... how should we describe ourselves? We are Maddi and Jerome, husband and wife duo, best friends, creative geniuses (oh so we believe) who live in a sweet little house, with sweet little babies (Mia and Bella) and a sweet little chihuahua (Peanut)... and with all this sweetness, comes our passion for wedding photography and the amazing opportunity to meet and work with lovely couples like yourself. Jerome is the amazing main photographer and Maddi is the optional (but also amazing) second shooter and admin-lady.

Stop what you are doing... there is a new videographer in town! Meet Sam. Our newest member to the Bird and Boy Photography team and our very own videographer!
He is the friendliest and most creatively driven storyteller you could ask for. This visionary genius will capture your day in the most amazing film possible. Trust us when we say that it will be spectacular.

We work on location... anywhere between Brisbane and Byron Bay... and are available AUSTRALIA-WIDE. We love every single style of wedding... from the lush gardens, magical forests, the breezy beaches to the quaint little chapel, we guarantee that we will always arrive with the same excitement and happiness as if it was our first wedding. Why? Because your wedding will be the most memorable day of your life... and we see it that way. We arrive in the mood

to capture every moment, every smile, every tear and every embrace because you will re-live these memories through our photography and videography for years to come. So, why do we do what we do? For that very reason! Our passion is still there... powering our creativity and appreciation for all things sweet, precious and in-love.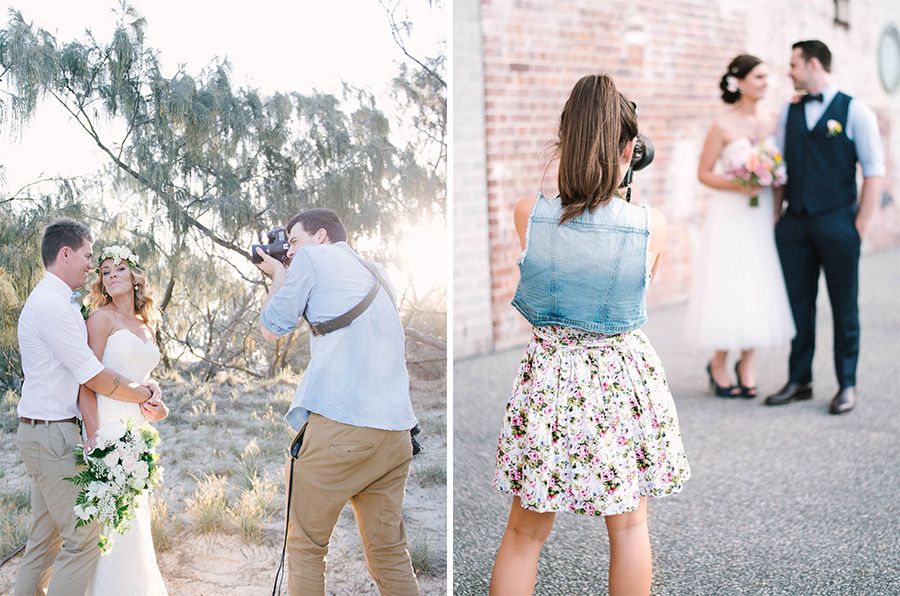 You can expect many things from the day... the most obvious is that we will be behind the camera capturing those fleeting moments as they pass you by. But we don't just stand behind the camera and take photos... we laugh with you, cry with you and make sure that we capture all feelings and emotions both candid and posed. "I really want candid shots" is a phrase we hear brides and grooms say a lot and you're in luck! With the option of adding a second shooter means two perspectives and more opportunities to capture those natural and genuine moments. We also direct the portraits and group shots to help the day flow and to get all of your special people together. As fine art photographers we use a combination of candid and posed shots to create a story with a dash of creativity and a whole lot of love.
We LOVE natural light... oh yes we do! We make every attempt to work with the day, whether it be glowy sunshine or the magical storm clouds, we will always find a way work to with the conditions.
"Eeeeeek!" is probably what you screamed when you imagined being photographed on your special day... especially the groom. It is funny, the bride always says that the groom "does not like having his photo taken" but funnily enough, they are always amazing! Just as each bride is beautiful and wonderful in front of the camera. So, please don't be worried about being photographed... we know that you will enjoy it! In fact, we once heard a groom say "Oh, I wish we could do this every day!". Case closed.
You may be sad that the day is over... but don't be! Soon enough you will have some whimsical fine art photos in your precious little married hands. We go through each photo taken from the day, choose the most amazing... from there, we are the oh-so-fantastic-creative-geniuses and edit each one to perfection... and before you ask, no, we will not "photoshop" you as you do not need it!
In all seriousness, we would love to photograph and/or video your wedding. We may not know you yet, but if you think we are a good fit, then we are so excited to start planning! Send us an email or a Facebook message so that we can have the honour of meeting you and learning about your story.